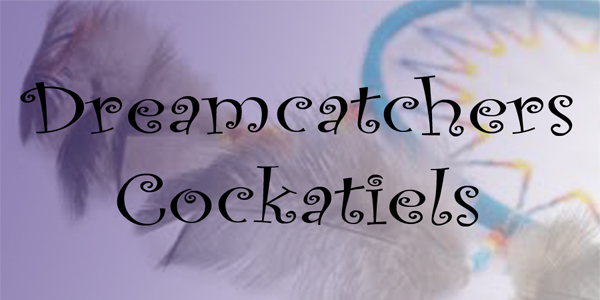 Welcome to our Flock.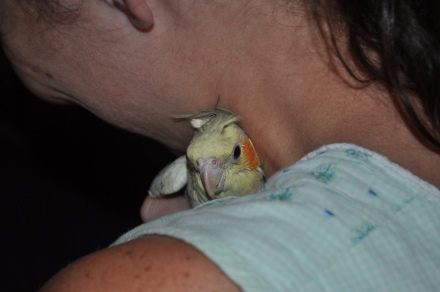 Here at Dreamcatchers, we are committed to bringing together unique and special feathered companions to our clients. We hand feed and nurture each baby to make them ideal family pets and delightful companions that will bring much joy and laughter to your home. We show and breed primarily cockatiels, however, we have recently added Green Cheek Conures to our flock.
UPDATE: - July 29 2015. My apologies for the lack of updates! We have had a busy year playing catch up after the thefts. We do have babies and adults who will be available later this fall. I will be updating as birds are ready. Please check back in a few weeks to see what is coming up.
5/24/14 ONE OF OUR BELOVED PAIR OF GREEN CHEEKS and A NEWLY WEANED COCKATIEL WERE STOLEN! Tristan and Isoulte and Bashti were taken yesterday from their locked flight cage out of my fenced yard. Just 5 days before, we had our mower and a bycicle stolen as well. Last summer, an unweaned clutch was removed from one of our breeding pairs out of the aviary, I had thought this was a one time event, but I was wrong. It saddens me terrible at the loss of our dear GCCs but also at the thought of my beautiful birds that I have raised for the last year to be in the hands of someone else. It is for that reason we will NO LONGER have any visitation to our aviary to view available babies. All transactions from now on will be conducted via photos, videos and through meetings arranged away from our aviary such as Bird Fairs or our favorite Austin pet store. I am sorry to have to go to this extreme but I can no longer risk the further loss of my beautiful birds.
UPDATE 12/9/15 Yes we have available birds. Please see our AVAILABLE page. More to be listed soon. Its winter breeding season and our babies will start becoming available between now and through April 2016. To reserve a baby, see our available page.
SHOW NEWS - Three of our birds made top bench novice placements at the 2015 Nationals this year!.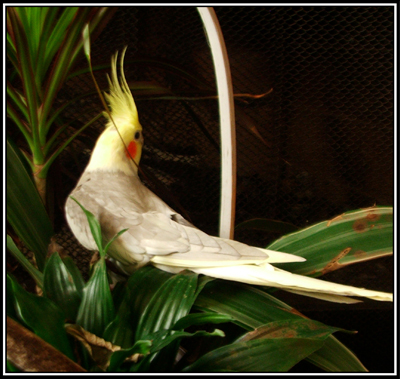 Our Birds
We are not a large scale aviary and do not mass breed for retail. We will only produce as many babies as we have time to devote one-on-one attention to and from our select pairs to ensure the best bird we can. Each of our babies is handled several times daily from the time that they are about 2.5 to 3 weeks old. We believe in allowing our parents to raise their babies for the first couple weeks to provide the babies with much needed nutrients and a basic grounding in bird behavior. Our aviary is closed to the public, however, appointments to interact and create a bond with a specific bird from us is welcome, time permitting, while you wait for your baby to wean.
Committment to Excellence
As members of the National Cockatiel Society (NCS Band #52M), The National Cage Bird Society, The American Cockatiel Society (ACS Band #52M), The North American Parrot Society (NAPS Band #52M), The Alamo Exhibition Bird Club and The Texas Bird Breeders and Fanciers, we strive to maintain the standards and ethics put forth by these organizations. In so doing, we feel that we make a contribution, however small, to these wonderful birds overall. We stand by our birds and are there to provide mentoring to all of our new owners for the life of your bird and beyond.